This was our second year helping maintain the Alice-Toxaway Loop in the Sawtooth Wilderness. We worked for a week with some guidace from the USFS and were able to cut out 24 downed logs and carry out work  on 247 water bars, either cleaning them out or installing new ones. In total, we were able to maintain roughly 22 miles of trail, including the Alice-Toxaway Loop and several trails that branch off the loop. A big thank you to our volunteers who committed a total of 273 hours and REI Boise for funding this project! Read on to hear about our 2013 Alice-Toxaway project from project leader Josh Wheeler.
This last July was my second trip to the Sawtooths with ITA and it was again, amazing. The heat was a bit stifling at times but the views make up for any momentary discomfort! We camped at the far side of Toxaway Lake, close enough to take a dip after a hard days work, but removed from the trail to have time to relax and enjoy a good meal. This year, like last, we had the great pleasure of spending the week with one of Mystic Saddles outfitters, Randy, who prepared and cooked every meal. Amazing!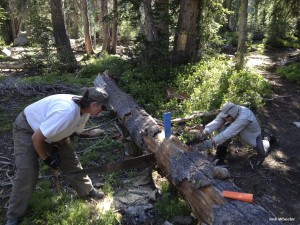 The highlight for me each year has been the new relationships. I'm a people person and enjoy being able to talk, share stories, and swing a pulaski together. I was able to bring my son this year and show him how amazing the wilderness is, but also how we can't take it for granted. I hope through this to teach him that it's equally important to give back to the trails after spending many years using them.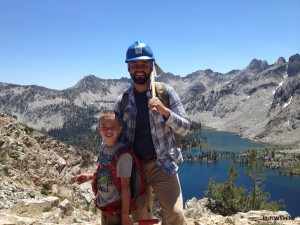 I have a whole new respect for the work that goes into maintaining our trail systems here in Idaho. And I believe ITA has and will continue to have an important role in keeping several of our Idaho trails maintained and beautiful, and I'm glad to be playing a small role in that.
Josh Wheeler, Boise