Deep Lake
Distance: 1.8 miles out-and-back
Total elevation gain: 550 feet
Difficulty: Easy
Elevation Range: 6,800 feet to 7,350 feet
Topographic Map: Victor Peak
Time: 1 hour
Season: Late June through October
Water Availability: Deep Lake
Cautionary Advice: Trail travels through extensive burn area. Use caution in windy conditions and be prepared for sun exposure.
Information: Payette National Forest, McCall Ranger District (208) 634-0400
Restroom: No
Coordinates: Trailhead: 45d 10′ 34″ N 115d 56′ 61″ W, Deep Lake: 45d 09′ 96″ N 115d 55′ 91″
This hike is posted by the suggested month to go on from Scott Marchant's 2016 Idaho Wilderness Calender.  This is just a general guideline however as many of the hikes can be utilized outside of the specific month.
The hike is from Hiking Idaho's guide book author Scott Marchant and from his book The Hiker's Guide to McCall & Cascade.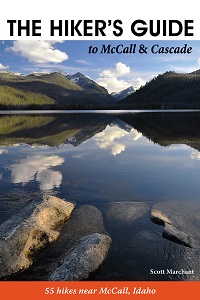 Deep Lake
With minimal effort you get far-reaching views, solitude, a peak-ringed lake and a canyon decorated with granite. It is hard to believe this basket of treasures is achieved with a short one mile hike. Deep Lake rests in a glaciated bowl at an elevation of 7,300 feet. Two unnamed granite peaks, one at 8,618-feet and the other at 8,386-feet, loom over the lake. Although the 1994 fires burned most of the forest, unobstructed views and a plethora of granite peaks make for an otherworldly adventure. This beautiful area is accessed from the end of FR 431 and is certainly off the beaten path. The route to the lake is not an official trail but it is clearly defined most of the way. Rock cairns assist where the path is faint. Children will find the lake entertaining, with many granite boulders along the lake's perimeter. As an added bonus for August hikers, huckleberries flourish alongside the trail. Those skilled with map reading skills can cross-country hike from Deep Lake and complete a 3.2 mile loop, visiting Trail Lake and Frog Lake. A small patch of forest north of Trail Lake escaped the burn adding to its allure. All three lakes have a couple of shaded campsites.
Trailhead Directions
From downtown McCall, go west on ID 55. At 1.2 miles, reset your odometer to 0 and turn right onto Warren Wagon Road. Go north on Warren Wagon Road 21.2 miles and turn right onto unmarked FR 431. Follow the well-graded dirt road 1.9 miles to its end. The trailhead is marked with a cairn at the eastern end of the parking area. There is parking for five or six vehicles.
The Hike
The trail is marked with cairns most of the way as it traverses over granite slabs and through burned forest. Begin hiking east in the canyon containing the outlet stream from Deep Lake. The trail climbs 200 feet and turns south with sensational views west to Squaw Meadows and the surrounding granite peaks. Soon the 8,292-foot Black Tip Mountain, which astonishingly is the headwaters for eight drainages, is clearly visible in the far distance. Reach the western shore of the lake at 0.9 mile. Here you will find a few parcels of green forest, sheltering a couple of fine campsites. If you are skilled with map reading or with a GPS, you can hike off-trail and complete a 3.2 mile loop back to your vehicle.
To do so, turn right (southwest) near Deep Lake and hike across deadfall and then up a charred ridge. After a climb of 150 feet, descend through dense forest into a small meadow. The lake is not visible due to the forest but is found by walking southeast towards Diamond Ridge. To continue the loop, walk around the north shore of the lake and travel west through burned forest towards Frog Lake. After a quarter mile hike, Frog Lake is seen from a rocky knoll. From here, descend 250 feet on an open hillside to the lake and cross the outlet stream, where you will find a campspot. Continue north, paralleling the outlet stream of Frog Lake, to the edge of the canyon containing Trail Creek. Look across the drainage where your vehicle will be visible near the trailhead.