By Hobie Swan, ITA communications and trail crew volunteer
The holiday season is upon us, and among the many things we at ITA are thankful for is our volunteers! We'd like to introduce you to two of them—one of our oldest, and one of our youngest. 
Meet Bruce Shaffer. Bruce is 83 years old and has been working on ITA trail crews since our organization was founded back in 2010. After more than a decade of trail work, he says he has no favorite tool (but would rather avoid the crosscut saw and says he's too tall for a Pulaski). Among his fondest memories is working on the Queens River. Yes, it's a beautiful area not far from Boise. But it's also the drainage where Bruce's grandfather panned for gold as a young man newly arrived from Switzerland. Filled with optimism, his grandpa built a cabin by the river and worked hard to find his fortune. That was not to be, but it led to his decision to move to Boise, which has been Bruce's family home ever since.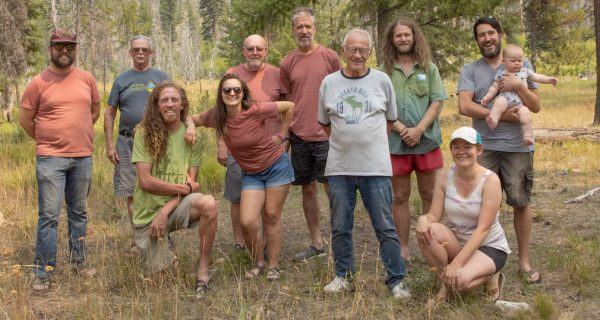 Besides the wilderness being in his blood, how does Bruce account for being such a fit man at his age? First, stay active (he says his garage looks like an REI warehouse sporting, among other things, two kayaks for him and his wife). Second, choose your parents carefully. And third, be a vegetarian. "When we go to our friends' house for Thanksgiving, I sit there and cry when they cut up the turkey," Bruce says with a laugh, "but I love the green bean casserole." A recent cancer survivor, Bruce says he'll be back on a trail project come 2022.
Samantha Waldron is a new ITA trail crew member. While she is certainly not the youngest member to come on an ITA project (babies are welcome on some projects!), she is the youngest to come on her own. She turned 14 just in time to volunteer for our weeklong East Fork Wood River project in the Pioneer Mountains this summer. As part of an ITA Youth Crew trip for people 14-18 years old, Samantha was doing it all: Silky saw, crosscut, Pulaski, McLeod, shovel, loppers, and clippers.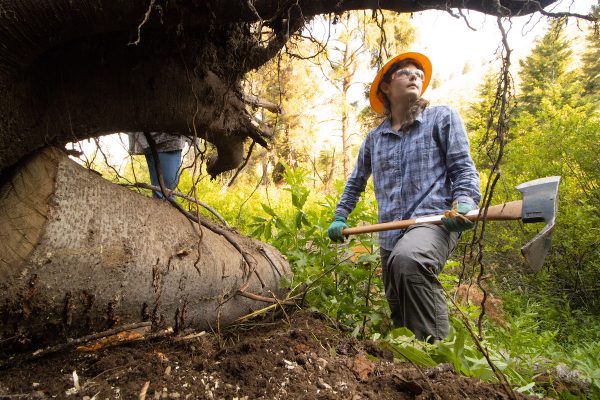 "This work is so important because there are people who want to use these trails and sometimes the trails just aren't in good enough condition. Since we're the ones using them, it's up to us to keep them accessible." So she and her team cleared brush, removed logs, and moved big rocks so everyone can enjoy these beautiful places. What she likes about the youth trips is getting to meet so many new people. "You work hard, then come back to camp and sit around and get to know people. You get a chance to relax, and then you do it all again the next day. It's so calm out here, and you can listen to the sound of the birds and the trees and the streams. It's just so different from the hustle and bustle of city life." The biggest payoff of all, she says, it that once people get a chance to come out and see the wilderness, they want to do their best to preserve these beautiful places.
We welcome folks of all ages and abilities to volunteer on a trail crew or behind the scenes to make our trails better for all! Thank you to everyone, from the youngest to the oldest and everyone in between, who makes up ITA's incredible collection of volunteers!