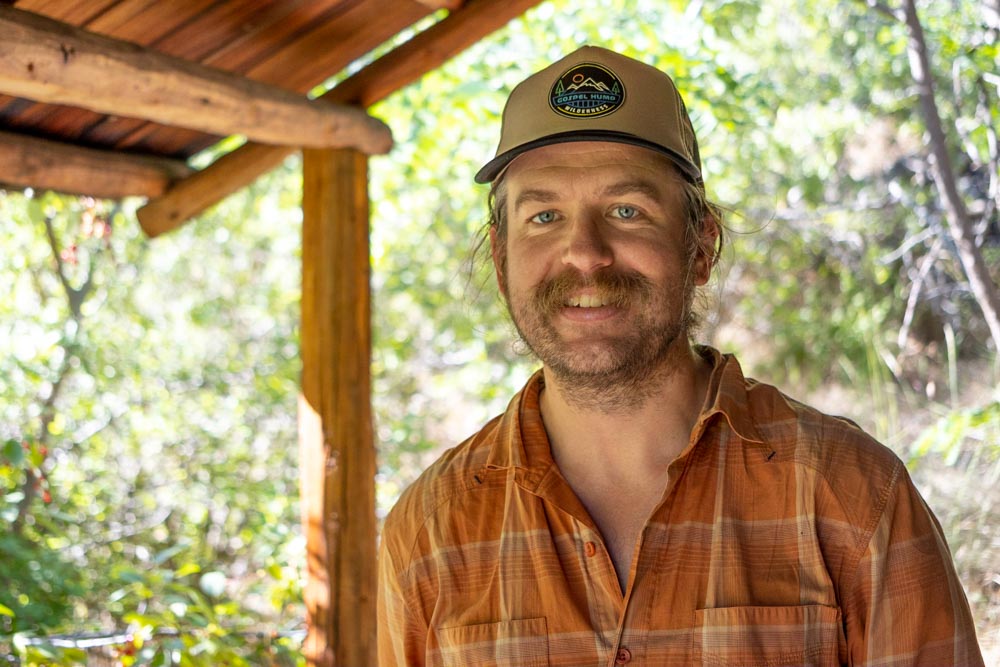 This summer, ITA crew leader and former employee Clay Jacobson will be hiking the Continental Divide Trail starting north and going south. The CDT spans over 3,000 miles from Canada to Mexico and crosses through Montana, Idaho, Wyoming, Colorado, and New Mexico. We're happy to be following Clay along his journey and will be posting his updates from the trail! You can see all of Clay's blog posts here.
Part 2: July 3rd 
Chief Mountain Canadian Border>East Glacier Park, MT (90 miles)
We spent two days camped at Two Medicine, getting our permits organized and soaking in the first big views of Glacier National Park. Big horn sheep, with their ragged spring coats, lingered around the campground eating charcoal out of the fire pits.
My good friend Danny and his little Pomeranian Loki had volunteered to drop us off at the trailhead on the Canadian border. The night before we were to start hiking, Loki suffered a massive seizure and had to be taken to an emergency vet in Columbia Falls to be put down. It was a very traumatic start to the hike, and we were all heartbroken for Danny who lost his pup of 14 years. So, we started off from the Chief Mountain trailhead with everyone holding back tears and hiking in a heavy silence. 
Our permit required us to do two snowy passes and 25 miles on the 2nd day. I didn't think this was very reasonable since we had just started and hadn't gotten our trail legs yet. The ranger wouldn't budge though so we set off on day two from Elizabeth Lake up over Reds Pass, our first mountain pass of the trail. The climb was well graded but had me wheezing nonetheless. The views of the Glacier High country were incredible but some rain moved in and chased us off the pass. 
By the time we arrived at Many Glacier about 15 miles later it became clear that we were not going to make it over the second climb. We stopped into the lodge and inquired about alternate plans. The lodge was $360 a night, but we were informed that tent camping was back open in the campground so we stayed there for free instead.
The next morning, we headed up towards Piegan Pass in the howling wind. As we reached the snow line, we watched the wind blowing a waterfall back up the cliff high above us on the glacially sheered wall. We did a long climb in micro spikes straight up the snowy mountainside with the trail switchbacking below us. The winds built up to 60-70 mph with stinging pellets of hail so we set up our tents and took shelter. After a few hours the wind subsided and we continued up and over the pass. Coming down the other side, long steep snow banks crossed the trail every few hundred feet. Quality (Isaiah) took a fall on one of the snow chutes, speeding off down the hill like a rocket. He hit dry ground and stopped about  80 feet below the trail, thankfully uninjured. We continued in the snow for several more miles with cold rain occasionally soaking us as we made our way down to the Going-to-the-Sun road. We shared our camp with two other thru hikers and got our first taste of the social side of thru hiking.
We woke the next morning to sunshine and calm winds, a welcome change. The hike to St Mary's followed the edge of St Mary's lake for ten miles before going up through an old burn. We arrived in St Mary's, camped at a noisy RV park, and had pizza for dinner. I was tempted to try out my bear spray on our loud and drunken biker neighbors, but settled for yelling at them from my tent.
The next stretch of the trail through Glacier was closed, requiring us to walk the highway 30 miles from St Mary's to East Glacier Park. Apparently a herd of cows had wandered up into the park and died over the winter. With the spring weather, the grizzlies had moved in and made a buffet out of the thawing carcasses. I broke the road walk into two days while Quality and Potatoes (Mark) did it in one stretch.
On my second day of road walking, I came up over a huge climb with impressive views of the Two Medicine river valley, with wild snow capped peaks stabbing into the horizon. The pull outs were full of tourists taking photos. I saw a truck I recognized and walked up to find my friends Ben and Kama on a trip with Kama's family. I knew he was going to be in Glacier but we hadn't made plans to meet up. It was a fortunate coincidence to run into them, and they gave me a cold beer and a donut (first trail magic of the CDT!).
I arrived at Looking Glass Basecamp in East Glacier, completing the first 90 mile stretch of the trail. The road walk destroyed my feet so I came limping in to find Quality and Potatoes already mingling with the other hikers. We will be taking a few days off here, waiting for the post office to open after the 4th of July holiday. It will be good to let my feet recuperate before we head off on a 130 mile push across the Bob Marshall Wilderness.
Happy 4th!
-Clay "Woodward" Jacobson