We are so grateful for the work that Hobart puts in to make trails better! If you have ever tried out our crosscut saw demo at an ITA event in Boise, you have probably met Hobart! He not only built the demo saw buck but also generously stores it at his place and hauls it to our events. This writer and jack of all trades also serves on ITA's Communications Committee and goes on ITA projects too!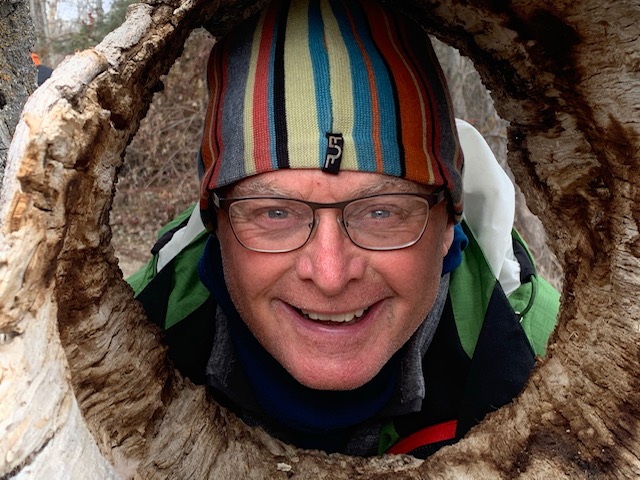 How did you first get involved with ITA?
I was working with Ridge to Rivers doing trail construction in the Boise foothills when I saw a guy wearing an "Idaho Trails Association" T-shirt. That guy turned out to be ITA volunteer and board member Bryan DeFosse. He explained to me that ITA did about the same things as R2R, but did it out in the wilderness. After backpacking a lot in my younger days, I hadn't done much of it in the past couple of years. ITA has since given me the opportunity to not only give back for all hundreds of miles of the trails I've walked in my life, but to explore the amazing backcountry that makes up so much of Idaho.
What do you like about volunteering with ITA?
I broke my collarbone pretty badly a few years ago and haven't since been able to lift a very heavy backpack. ITA has a fix for that: projects that include horses, mules, or jet boats to carry in gear, tools, and food (some of these trips even include a cook!). I love these trips because they enable me to get deep into Idaho wilderness without having to lug a 40-pound pack. It's kind of like instant gratification (except that we typically have to hike in anywhere from 5-10 miles or so to base camp). It is such a good feeling to look at a trail before you start to work on it. At first, the trail is all overgrown, crossed by big trees, the trail tread a mess. After the ITA trail crew is finished with it, the trail is clean and clear and just becking people to walk down it. As far as volunteering at events, I figure that a lot of people are just like me: People who would love to see more of our great state, but don't know exactly how to get there. I spend most of my time at events demoing our 6-foot crosscut saw. Not only is it really fun to show people how to use it, but you can witness people reconnecting with the way we used to live before all the machines took over. Whether the people who come to an event ever end up working with ITA on a trail, I feel like we've done a service by opening up their—and sometimes their children's—eyes to a way of reconnecting to the natural world.
What is an interesting fact about yourself?
I'm a writer and editor, but I have had a million "careers" including King Crab fishing (The Deadliest Catch), restaurant owner, documentary maker, carpenter, and puppeteer.
Most memorable backcountry or ITA experience?
I did an ITA trip a couple of years ago to the Middle Fork of the Salmon. We worked for miles on a trail that ran just above the river, and I remember one day walking along the trail and suddenly seeing this long, brilliant green thing sliding through the brush just a foot or two away from me. Instead of freaking out, I just stood there and watched, transfixed, and this big rattle snake went about its business. By the end of that week-long trip, I had seen dozens of rattlers (though that was the only one I saw that was such a brilliant color). They scared the hell out of me at first, but after a week of seeing them every day, my fear subsided and I learned to appreciate their presence, their beauty, and the irreplaceable role they play in our world.
Why are trails worth protecting?
Thoreau said it best: In wilderness is the preservation of the world. You have to get out into nature for a period of time to experience the way it can transform you, the way it can calm you and open up your soul to the miracle of living in this time and on this planet. But you can't bushwhack your way there (I've tried it and it's exhausting). By keeping our trails open and accessible, ITA is presenting more people with the opportunity to feel that sense of calm and wonder.
Any upcoming ITA adventures?
In early September Ill be part of a crew clearing the last mile of trail to Vance Lake in the Bitterroots. I can hardly wait!