Our Trail Spotlight highlights day trips to multi-day hikes across Idaho. Trail conditions can change quickly- swollen rivers can become impassable, windstorms can knock trees down across trails, and snow can come earlier than expected. Please take these recommendations as a jumping off place and do additional research to understand current conditions and  keep yourself safe if you choose to hike this trail. Physical guidebooks and maps are always good to have or check out some online resources like Alltrails.com for updated trail reports. If your trip is as awesome as you hope it will be, please share photos and feedback!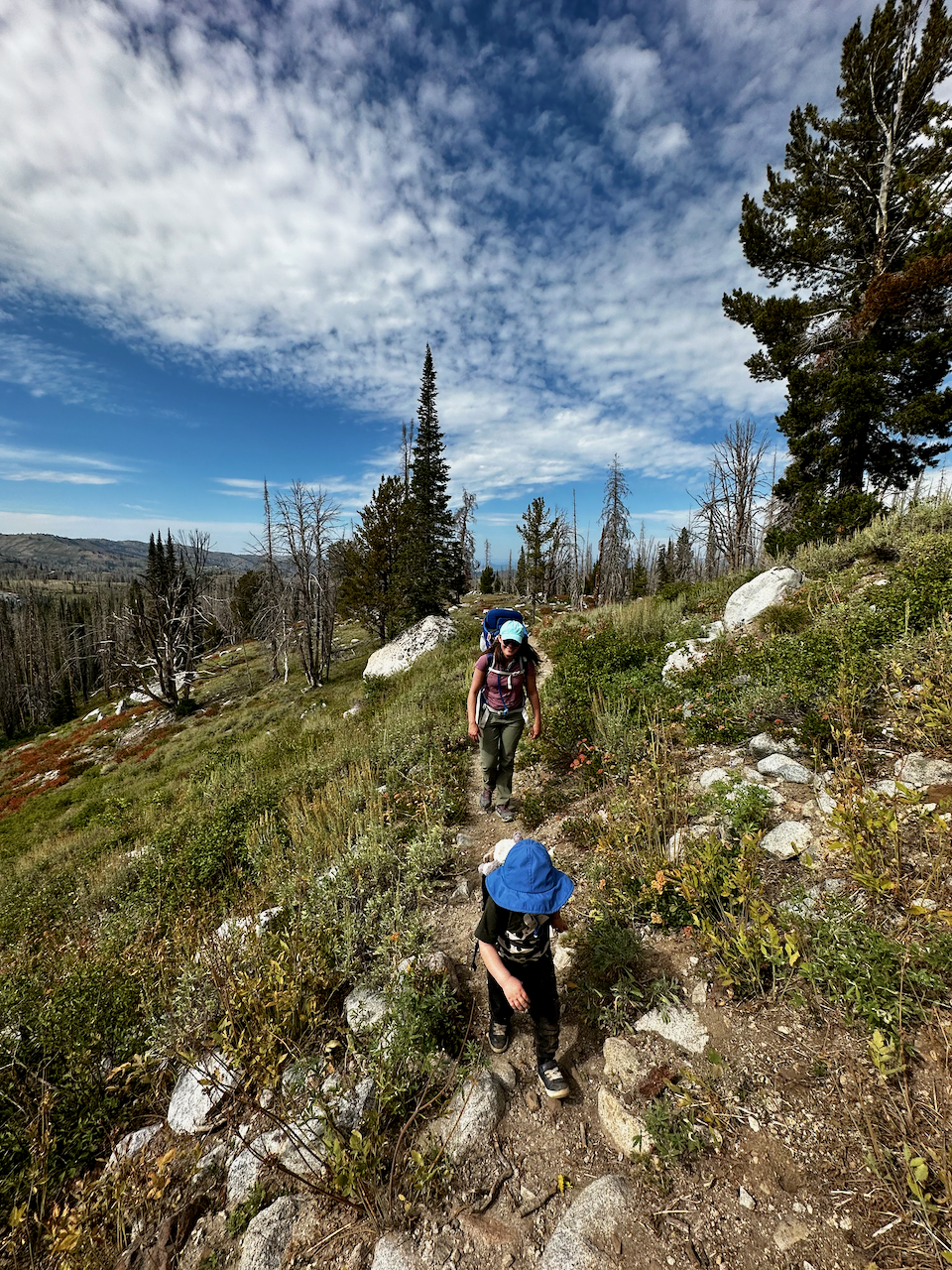 Recommended by: Kelly Hewes, ITA Communications Director
Duration: Day hike or multi-day backpacking
Area: Boise National Forest
Difficulty Rating: 3 out of 5- The trail is 4.4 miles in total not counting the the spurs to the lakes. A few steep climbs, with 1,600 total elevation gain over the four miles.
Road Considerations: This area is inaccessible until early July due to snow. Google maps is known to send people on a route that is more difficult than the more recommended route through Featherville, directions listed below. This way takes about 2.25 miles from Mountain Home. A standard passenger car is fine on this route. Cell coverage is spotty so plan to use offline maps for navigation. 
From Boise, Idaho, travel 40 miles toward Mountain Home, Idaho.
At Mountain Home, take exit 95, (State Highway 20) and proceed 35 miles to the Pine/Featherville turnoff.
Travel north on Forest Highway 61 for 29 miles to Forest Service (FS) road 172.
Proceed 15 miles northwest to FS road 129. Travel 3 miles south to the Trinity Recreation Area.
The trailhead is at Big Trinity Lake Campground.
Total hiking miles: 8.8 miles out and back not counting the spurs to the lakes which would add on another four miles bringing the total to 12.8 to go to all nine lakes on the trail.
The Hike: Featuring nine lakes carved out by glaciers, this beautiful trail is a must-hike! The trailhead begins at Big Trinity Lake and the first mile gains 670 feet of elevation and is mostly unshaded. Once over the pass and into Rainbow Basin, the trail winds through tall trees and over little streams. Only two of the nine lakes accessed by this trail are directly on the trail. The others range from 1/4 to 1/2 mile hike to reach the lakes. The first lake is Green Island Lake followed by Little Lookout Lake, Fiddle Lake, Big Lookout Lake, Heart Lake, Big Rainbow Lake, Middle Rainbow Lake, Little Rainbow Lake, and finally Hideaway Lake. The last mile of the trail to Hideaway Lake is another climb of nearly 700 feet. This hike could be done as a day hike or an overnight backpacking trip. This area has a variety of wildlife and rainbow and cutthroat trout can be found in the lakes, stocked by the Idaho Department of Fish and Game. Wildflowers and grouse whortleberries are plentiful throughout the summer. An ITA project is planned for September 2023 on this trail.
Places to camp along the way: There are 17 camp spots at the trailhead at Big Trinity Lake Campground as well as other spots at the three smaller lakes with road access. These spots are $10 a night. On the trail for overnight backpacking, every lake has at least one great camp spot.
Things to consider: Water is plentiful after the first mile. A good water filter is highly recommended. Mosquitoes can be especially bad in early to mid summer so remember to pack spray. The summit of Trinity Mountain (Idaho's highest drivable point!) can be reached by a rocky car ride plus a short hike up to the top on the backside of the peak or by a steep scramble from the Rainbow Basin Trail.
Fun places to visit on your way in or out: If traveling through Featherville, stop at the Trinity Mountain Cafe for a tasty burger and fries! There are also hot springs near the river at the Elk Flats campground in between Featherville and Pine.
More info about this hike: All Trails for Rainbow Basin Trail, Forest Service page about the Rainbow Basin Trail, Forest Service page about the Big Trinity Lake Campground