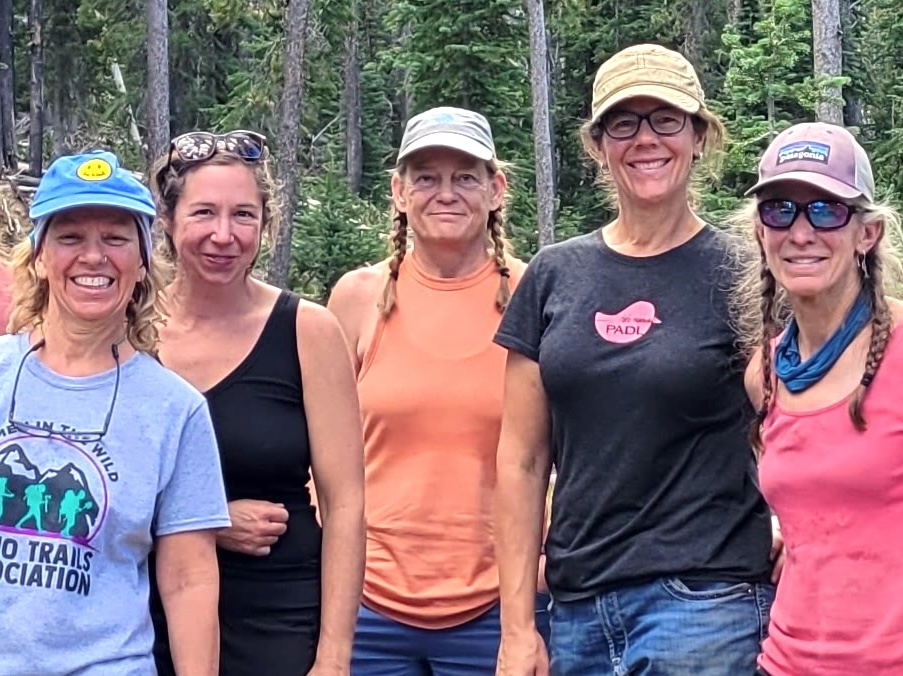 Our 2023 Volunteer of the Year for the South Idaho region is Brenda Magnuson! As a fairly new ITA volunteer, she came on five projects this year for a total of 12 days on the trail, helped out at several events during the season, and helped move tools and gear across the state. She was super flexible, hard-working, and a welcome addition to any trail project! She also supports ITA as a business partner through her company Sage Environmental Services.
Tell us about yourself.
I've been working in the environmental field for 39 years; self-employed as a consultant since 2001.
What are some of the things you enjoy doing for fun?
Mt Biking; running (although my knees don't like me to do that too much anymore); hiking; backpacking…I volunteered as a coach for Girls on the Run for about 12 years and that was tons of fun.
How and why did you first get involved with ITA?
Mostly for selfish reasons…I wanted to explore more of Idaho and meet like-minded people; exploring trails I have never been to. Working to preserve access to the trails seemed like something that would be a good fit for me….this was a bonus!  My first trip hooked me!
What do you like about volunteering with ITA?
I have met some of the kindest, hardworking, and giving people ever…volunteers and crew leaders included. And they're all so FUN too! Helping at the Farmer's Market has been fun too…especially helping people try the crosscut saw at the demo.
Most memorable backcountry or ITA experience?
As a fairly new ITA volunteer, I am sure the best stories are yet to come…but the last night of the WOW trip at Caton Lake, we had all retreated to our tents for the night when we heard a loud crack…a tree fell, taking two others with it. In the morning, we discovered that the large one had fallen across the end of the trail.  
Why are trails worth protecting?
Idaho has some of the most beautiful wilderness in the nation…our agencies responsible for managing our lands are horribly underfunded; if we, as users or our trails and backcountry, don't lend a hand through volunteering, access to our trails and facilities will be lost…that would be a senseless tragedy….there are so many people that enjoy using Idaho's trails.