ITA celebrated National Trails Day with REI-Boise and the BLM by repairing Roberson Trail West.  ITA Volunteers were greeted with unforgettable views of the Bruneau River during the project. Purportedly constructed by the Civilian Conservation Corps in the 1930's, the trail received much needed attention. The project was very successful due to our great volunteers, REI and the BLM.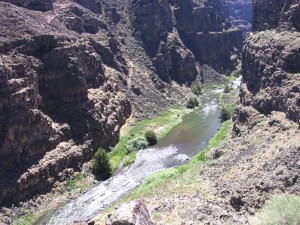 Although sections of the trail were near a precipice and it was warm, no one complained. Volunteers made the trail much more visible by posting new signs and clearing vegetative overgrowth.  New waterbars were installed in order to limit water-induced erosion. The switchbacks on the lowest portion of the trail received some much needed work. Several switchbacks were reconstructed and bordered with rock walls. The walls will not only serve as a safety barrier, but also as a shortcut barrier.
Our next project is the Pioneer Cabin trail in the Pioneer Mountains of the Sawtooth National Forest. We still need volunteers for this project! To sign up, follow this link (
Pioneer Cabin
) to the project page. Hope to see you on the trail!