Waking up to cool mornings (low-20's)  was well worth it to our volunteers. The morning sun painted the summits of the Boulder Mountains with icy hues of rose whilst Baker Creek greeted us with its babbling brooks. On June 22nd and 23rd, ITA and the Forest Service teamed up to complete some much needed maintenance on the new Osberg Ridge trail.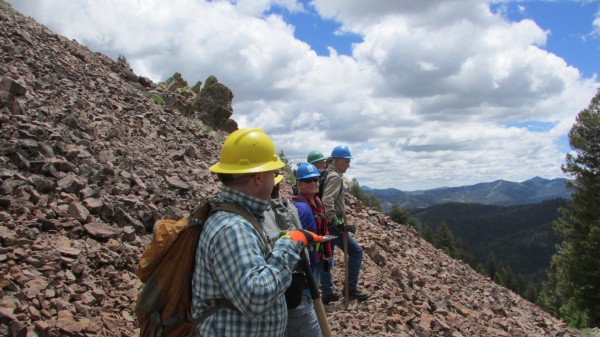 The first day of work began with an unforgettable 4 mile hike to the work site. The trail granted us unforgettable views of Bear Peak and vivid splashes of Yellow Lupines, Idaho Bluebells and White Larkspurs laced with Sidonian purple. At the work site we connected the Osberg and Warmspring Ridge trails by building a 100 yard section of new trail. Hikers who start at the Baker Lake trailhead now have the opportunity to hike all the way to Ketchum.
The second day was devoted to the construction of a geotextile turnpike on the Osberg Ridge trail. Simply put, we layered rock and gravel over the tread to impede water collection. The picture below show a before and after shot of the turnpike. The project was completed around noon and several of our volunteers hiked up to Baker Lake.
The the newly developed Osberg/Warm Springs ridge trail system is located in the Sawtooth National Forest and is quick drive from Ketchum. To reach the trailhead from Ketchum, follow Idaho-75 north for 15 miles and turn left onto Baker Creek Road. Baker Creek Road ends at seven miles at the Baker Lake trailhead. This trailhead gives you a plethora of options and is a two and one half hour drive from Boise.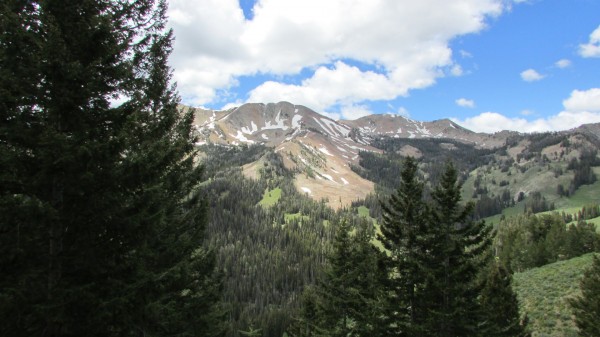 ITA projects fill a vital gap left by federal budget cuts. Many, if not all, Forest Service trail crews are short staffed. As Rene Catherin, our Forest Service contact, stated "Theses trail projects would be difficult, if not impossible, to complete without the aid of selfless volunteer groups like the ITA"
If you enjoyed this project we have several upcoming projects in July.
Mt. Borah: July 18th-21st
The Mt. Borah project places you on Idaho's highest peak! This project will be very labor intensive and work will occur on very steep slopes. This will be a 3 day weekend project. For More information see our Mt. Borah page.
Alice-Toxaway- July 15th-21st
We need volunteers for the waitlist on this popular project. We will be working once again with the Forest Service personnel out of the Stanley Valley Workcenter and Mystic Saddle Ranch. This trip offers unforgettable views of the White-Cloud mountains and alpine lakes. See the Alice-Toxaway page to sign up!
Wood River- July 29th-August 1st.
ITA will be joining up with the Forest Service Ketchum office. We will be tackling several trails within the Wood River drainage basin. Check out our Wood River project page to learn about this new project.