Restoration of Jenny Lake Trails Continues in 2015
The Spring 1939 issue of Grand Teton Nature Notes pronounced that "By far the most popular trail in the park is the lower portion of the Cascade Canyon Trail which leaves Jenny Lake and climbs above Hidden Falls." More than 75 years later that statement still holds true. As a result of overuse through the years the park, in conjunction with the Grand Teton National Park Foundation, launched a multi-year project in the spring of 2014 to improve the area surrounding Jenny Lake.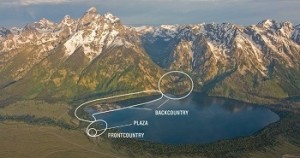 Inspiring Journeys: A Campaign for Jenny Lake is a $17 million public-private collaboration that will transform Jenny Lake's trails, bridges, key destinations, and visitor complex. These much needed upgrades will improve the experience of hikers headed to Hidden Falls, Inspiration Point and Cascade Canyon, as well as the Jenny Lake Loop Trail. In addition to celebrating the 100th anniversary of the National Park Service, this extensive five-year project "will create an inviting trail system and captivating experience for the 21st century visitor".
With more than one million visitors now exploring the Jenny Lake area each year, the aging trail system and supporting infrastructure has struggled to provide visitors with an optimal experience. Once completed, however, this ambitious project will result in wide-ranging changes to Jenny Lake's infrastructure, including the addition of new restrooms, construction of accessible trails, improved visitor orientation and interpretation, rehabilitation of water and wastewater systems, as well as enhancements to improve visitor circulation.
Most importantly, however, Inspiring Journeys will focus on the revitalization of trails in the Jenny Lake area. This much needed work will include restoration of trail treads, reroutes to avoid sensitive areas, reclamation of habitat in certain areas that were overrun in the past, removal of fencing, and the construction of bridges. Overall, stewards of the park seek to provide a safer and more inspiring experience for all hikers.
In addition to rehabilitation of Jenny Lake's backcountry trail network, park visitors can also expect to see improvements to the Hidden Falls and Inspiration Point viewing areas, as well as rehabilitation of the west boat dock area.
Work on the backcountry trail system from the west shore of Jenny Lake to Hidden Falls and Inspiration Point will continue during the summer of 2015. Detour routes will be well marked for hikers wishing to visit Hidden Falls and points beyond during the 2015 hiking season.
The hike along the Cascade Canyon Trail is regularly touted as one of the top hikes in America. The hike includes a boat ride across Jenny Lake, as well as visits to Hidden Falls, Inspiration Point, and Cascade Canyon itself. The views of Mt. Owen looming more than a mile above the canyon are absolutely outstanding. Fortunately the Jenny Lake project will allow visitors to continue enjoying the stunning beauty of this area for generations to come.
For more information on the Inspiring Journeys project, please visit the Grand Teton National Park Foundation.