By Clay Jacobson, ITA Trails Program Director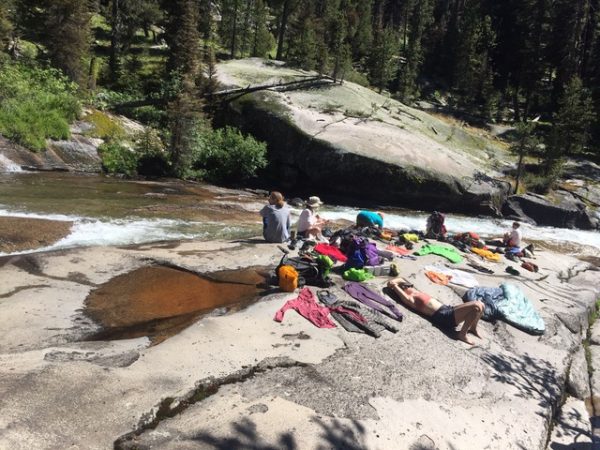 Whether you are going out on an ITA project or planning your own backpacking trip, these items can help make your time in the backcountry a little more enjoyable!
Hand Sanitizer – In the post-pandemic world, we have become increasingly familiar with the benefits of clean hands. These same habits can help you stay healthy in the backcountry, where hygiene is sometimes overlooked. Help keep your trip free of GI distress by sanitizing your hands after using the bathroom and before eating. Avoid letting other people's hands reach into your trail mix bags! Pour out of the bag instead. Hand sanitizer can also remove pine sap from your hiking clothes. Stay safe out there.
Dog Poop Bags – With the increased use of our trails and campgrounds during quarantine, many National Forests have issued warnings about human waste and discarded toilet paper. Nothing takes you out of the moment faster than seeing TP streaming across your favorite trail. Scented dog poop bags come in rolls of 20 which make packing out your used toilet paper a breeze. Toss in your paper, tie off your baggie, and keep them in a gallon Ziploc. Very clean, easy, and considerate of our public lands.
Duct Tape – Whether you're fixing a broken tent pole or doing some blister care, duct tape can always come in handy. Don't let those hot spots rub raw inside your hiking shoe. A quick application of some duct tape will help alleviate friction and prevent blisters. No need to bring a whole roll for a short trip. Wrap a few feet of tape around a trekking pole or pencil to avoid packing extra weight. 
Tenacious Tape – This handy fabric repair tape can easily fix your gear in the field. If you find a hole spewing goose-down out of your favorite jacket or sleeping bag, or discover a new hole in your tent letting in the rain, a small piece of tenacious tape can save the day. You can fix a hole in your tent or bug mesh without getting out of your sleeping bag!
Dry Bags – Colored dry bags are a great multi-purpose addition to your backpacking set-up. While keeping your clothes and sleeping bag dry is the obvious benefit, stuff sacks and drybags also help organize your gear. A clothes bag, food bag, personal items bag, etc will greatly simplify the process of finding gear when you need it. Bag it up; avoid the campsite yardsale!
InReach – Two-way satellite communication devices have improved by leaps and bounds over the last several years. Especially in Idaho, where it is easy to find yourself in very remote locations, the ability to send/receive communications may save your life in a pinch. These devices make solo-hiking much safer and can help put the minds of your loved ones at ease, knowing that you are safe. If you find yourself in serious trouble, you will wish you had one of these in your pack.
Maps (Phone/Paper) – The ubiquity of GPS-enabled smartphones has made it extremely easy to access high-quality topo maps for any area. You can download maps to your phone's hard drive and use them even when you are deep in the backcountry with no cell service. Besides staying on trail, you can use these maps to familiarize yourself with the surrounding area, available water, changes in terrain and elevation, etc. Checking your maps often will increase your awareness of the area around you. Keep in mind, phones can break, so if you are depending on maps to navigate you should always carry back-up paper maps.
Camp chair – Whether you bring a seat pad or an ultralight recliner, you just can't beat having a place to plant your seat after a long day of hiking. With lots of options available at different weights and price points, there's no reason not to lounge in style!
Silky Saw – If you've been on a trail maintenance trip, you are familiar with this line of hand saws. From folding pocket saws to full-blown trail Katanas, you can find a saw that compliments your hiking style. Turn every hike into a trail work project when you come prepared to clear downed trees, encroaching limbs, and impassable brush. Let's make volunteer trail work the norm on our trails.
The Big 3 (Backpack/tent/sleeping bag) – While there is a lot of personal preference involved in picking YOURperfect backpacking gear, we'd encourage you to take a close look at your "Big 3." Any of these 3 items can range from 2-7 lbs off the shelf of your favorite outdoor store. Multiply that across these 3 items and you are looking at 6-21 lbs before you even start packing your gear. While you might not need the most expensive ultralight gear to enjoy your time in the outdoors, it is worthwhile to evaluate your needs in relation to how much weight you can comfortably carry. A good goal is not to exceed 30% of your bodyweight. Pack accordingly and you will be hiking in style without making any big sacrifices.
What are your backpacking must-haves?