It takes a lot of work to keep some of our treasured trails open. Some would say that trail maintenance is "men's work," but that simply isn't true. Over the years, the number of women out there working crosscuts and swinging Pulaskis has continued to grow. The skills needed for this kind of work don't just include strength; you need to have some level of physical fitness but it really takes endurance, strategy, teamwork, and a can-do attitude!
ITA started the WOW Program to provide an encouraging environment for women to learn trail maintenance skills from other women. In the future, when they go out on other trail projects, they will feel confident enough to step in on the cross-cut or pick up a Pulaski. Just women helping women figure it out.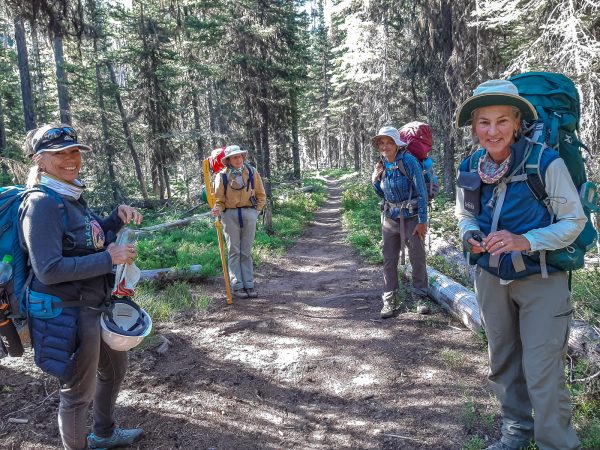 A weekend is a short enough time to give the volunteers a glimpse of what trail maintenance is all about but long enough to grow their confidence in newly-learned skills. The crew leaders demonstrate the safe usage of all the hand tools and volunteers are encouraged to swap tools around to get experience with each one.
Most of the WOW volunteers have never been on a trail maintenance trip before but some have also never been hiking or camping either. These trips expose more women to the amazing wild places in Idaho and to what it takes to maintain our precious outdoor resources like trails. Many walk away with a greater appreciation for what organizations like ITA do and consequently become advocates for our public land and outdoor recreation resources.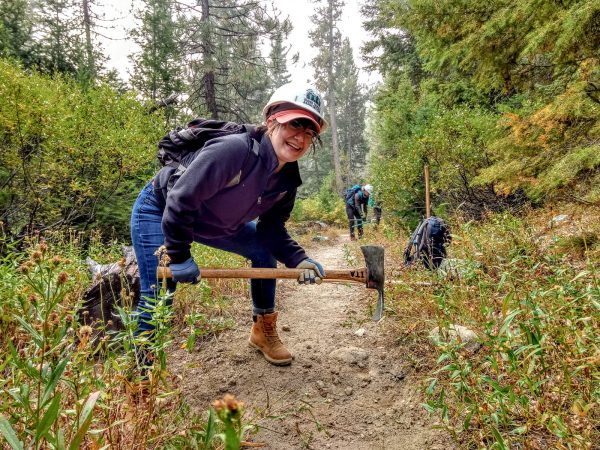 It's not all about the trail work. These trips are also a heck of a lot of fun! At the end of a good day's work, volunteers have time to get to know each other. Friendships are made, stories are swapped, and many laughs are had. From a past volunteer:
I came home from my first WOW weekend filled with such a powerful sense of accomplishment. It filled my heart to spend a weekend with a group of like-minded women that cared about trails and taking care of our #idahome. I have made friendships from this weekend that I might not have had the opportunity to have built. Was it hard? Yup. Was I tired? Yup. Was it worth it? Yup. Would I do it again? In a heartbeat. – Carrie Holmes

This year marks the third season of the Women-Only Weekend (WOW) program. ITA couldn't be more pleased to see the interest in this program and have plans to keep growing it to provide even more opportunities across the state in the future. In 2021, the WOW program is expanding beyond weekend projects to include two week-long trips!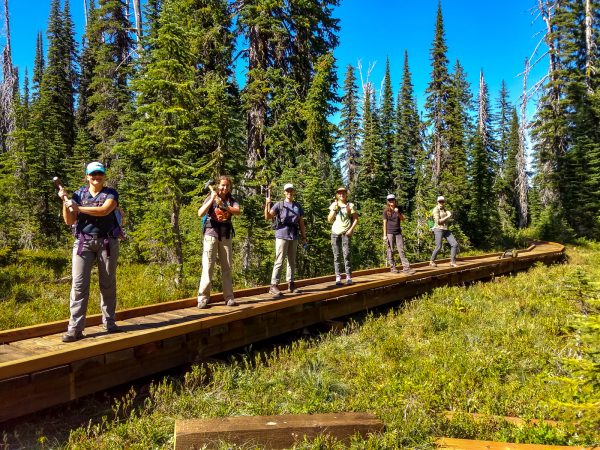 As the WOW program grows, we need more volunteers and donors alike to continue to provide opportunities like these and make a difference for Idaho's trails. ITA is in the midst of its year-end membership drive and your donation dollars support the Women-Only Program. Please consider renewing or becoming a member today.

Thank you to all the women who have participated over the last three years in our Women-Only Weekends! Hope to see you out on the trails next year.
Pam Bond
ITA Board Member