By Liz Bridges, ITA Advisory Board Member and Youth Trail Program Cook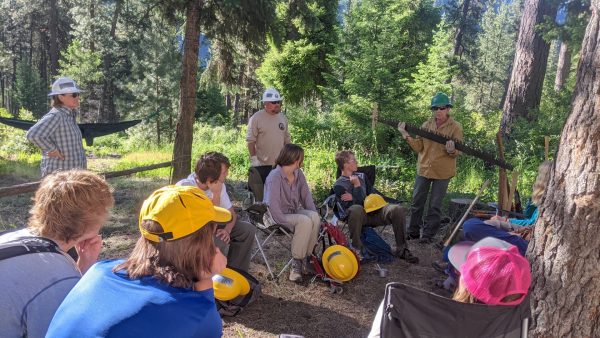 Wilding, grubbing in the dirt, trail crew, fun…however you want to describe them, ITA's Youth Trail Crews are all that and more. The first Youth Trail Crew took place along the banks of Big Creek in the Frank Church-River of No Return Wilderness in the summer of 2019, combining teens from Council – familiar with ranching, hunting, fishing and the best of rural Idaho – with teens from the North End of Boise – lacrosse and ultimate frisbee aficionados, kayakers and all that is good in urban Idaho. Admittedly, the first two hours the youths circled around each other, wondering what kind of fish were sharing the pond. But by the time the mule team was packed and the crew set out down the trail to what would be their base camp for the next 7 days, friendships were being forged and new connections made that would only strengthen over the week as trees were crosscut, eroded trails across landslides restored, and seemingly miles of ceanothus lopped back and uprooted from the trail that climbs from Big Creek to Chamberlain Basin. At night, the circle by the fire grew tighter and the laughter louder as events from the day were recounted and games were played.
From that first Youth Trail Crew, ITA developed a popular and successful Youth Trail Crew Program: six different Youth Trail Crews marched into the Idaho wilderness this past summer of 2021, with teens from towns across the state. These teens, along with volunteer adult leaders and cooks and supported by Forest Service mule and horse packers and personnel, were sixty-five people who made a huge difference for countless others. Samantha, a 2021 youth volunteer, framed the Youth Crew's accomplishments succinctly, "Doing this trail work is important because there are a lot of people that want to use these trails, and a lot of times they can't, if there's stuff in the way. People on horseback can't go on the trails if there's a big log in the way. By removing those obstacles we can let more people enjoy this beautiful place and really give back to nature. And we kind of have that responsibility of clearing the trails if we're the ones using them and keeping everything nice and well maintained."
The Youth Trail Crews worked 37.5 miles, put in 1,855 volunteer hours, built and restored 198 waterbars, cut 333 trees that had fallen across Forest Service trails, improved 6,200 feet of tread, and brushed a whopping 21,940 feet of overgrown trail.
Not that it was all work and no play. The virgin ponderosa forests along Rapid River were the perfect setting for games of "Mission Control", and the mantis left by the packers and spread on the duff were ideal for games of Spite and Malice and stargazing. The sloping meadows along Mattingly Creek surrendered to guerilla frisbee games and, while fires were forbidden due to the extreme dryness of the forest, there too, the evening circle grew tighter and louder, group songs rose up the valley walls and set the pace, in the afternoons, as the Youth Crew returned to camp.
None of this would have been possible without the enthusiasm of the teens on the Youth Crews, without the guidance of the adult volunteers, but particularly without the generosity of donations from Idaho groups and individuals. Our donors know how important it is to provide these kinds of leadership and self-confidence building experiences for the youth of Idaho, and their donation money goes a long way to fund the expenses of each Youth Crew project. Thank you to all our members and supporters for making this program possible!
Everhett, one of our 2021 volunteers, recruited friends to join forces on a Youth Trail Crew project and offers this advice to future volunteers, "I'd encourage anyone else who's thinking about doing it to just do it because it's fun and it really is life changing. It's an experience you don't get anywhere else."
Watch our latest video about our Johnson Saddle all-girls Youth Trail Crew Project in partnership with Wild Hearts Idaho! From a thrilling (and wet!) jet boat ride up the Salmon River to living out of their backpacks for a week, these girls had quite the adventure in Idaho's backcountry.