John serves as Treasurer on ITA's Board of Directors. He is originally from rural northern Idaho and appreciates the region's dark forests, abundant water and fluid weather. Since moving to Boise 26 years ago, he has enjoyed southern Idaho's blue skies and year round outdoor recreational opportunities. If he is not hiking, floating or skiing, he is on one of his mountain bikes riding in the Boise foothills or neighboring area trails. There is absolutely nothing like getting off the bike and spending time exploring new trails in Idaho's amazing wild lands. John looks forward to supporting ITA in their efforts to maintain Idaho's tremendous trail system in a manner that is consistent with the surrounding landscape.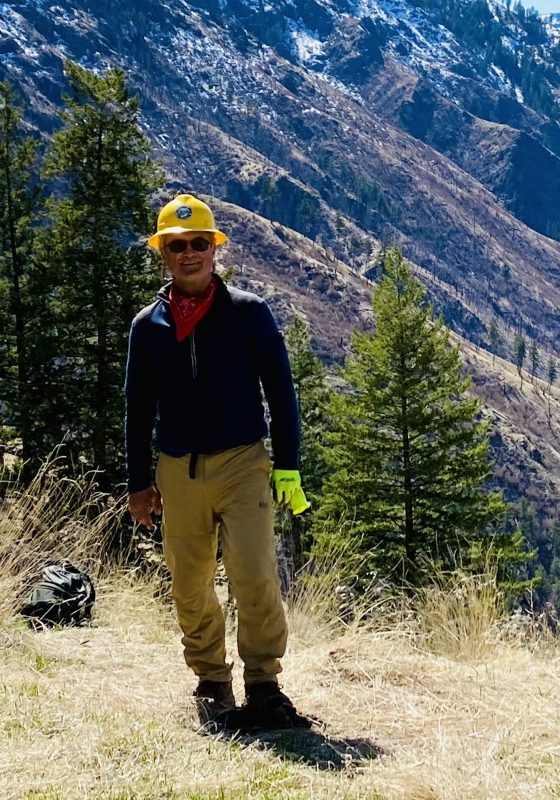 When, how and why did you first get involved with ITA?
When I retired in 2016, I was exploring what volunteer work supported the activities I enjoyed.  Prior to retirement, I started working on mountain bike trails with a local Boise group a few years earlier and really liked the work.  At the same time I was also doing more backpacking in wilderness areas and learned of the constant threat of losing many hiking trails due to lack of maintenance. Later that year, I was having a beer with a friend who was on the ITA Board and he mentioned they were looking for another member for the Board, particularly as a treasurer. I heard of ITA but wasn't fully aware of their mission and how it could fit into my plans. It was an opportunity where I could make a contribution, stay active outdoors, dust off some accounting knowledge and have the satisfaction of giving back. 
What is your most memorable backcountry experience? 
While taking a break hiking up, my helmet blew off a rock on a steep hillside, tumbled and rolled down a rock scree half way to the bottom.  Needless to say, I was terrified balancing on rocks and grabbing thorny bushes as I made my way to the helmet as these were very similar rocks I was hopping on when I broke my leg over 15 years ago!  
What is your favorite ITA trip you've been on and why?
I have been consumed with family matters over the past 5 or so years which as limited my ITA outings to the annual week long Board and Advisor trail project in the spring. These trips are the best "shot in the arm" for me to get the year started. Everyone of them has been a great experience and is an annual treasure!  
What advice would you have for new trail users?
Be open to learning about wilderness and how you can be part of keeping it wild. And, most importantly, explore, relax, repeat.
What's your next big adventure?
The next big adventure is to discover where we want to live our later years.  Climate change and population growth presents big challenges to our lifestyle in Boise since we enjoy cooler weather, snow and being away from crowds. For now, we will be checking out other parts of Idaho and New England while spending weeks or months there to see what sticks! Idaho will always be a home because of friends, family, wilderness and ITA.
What's your hope for the future of trails and/or ITA?
I would like to see us continue to streamline ITA internal processes so we can remain focused on our mission. We have experienced big time growth and it has required to adapt quickly to change. This will require ITA to keep bringing in new talent to our Board and Advisors which spawns ideas and just makes this work more fun. Also, as more and more people were getting outdoors over the past year, I am hoping it brings increased attention to the plight of our wilderness trail system and we see additional support from businesses and public land managers to support ITA's mission.