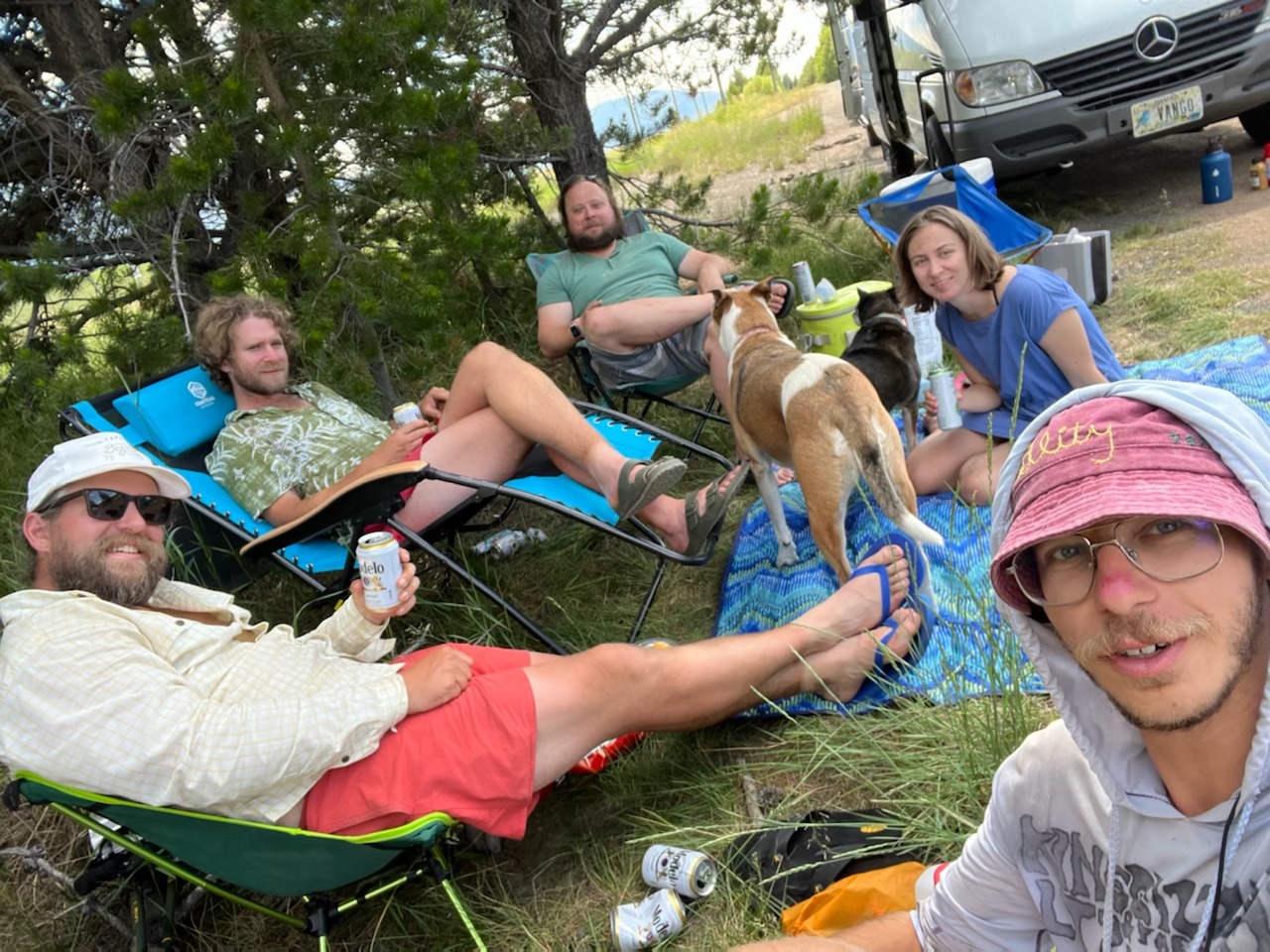 This summer, ITA crew leader and former employee Clay Jacobson will be hiking the Continental Divide Trail starting north and going south. The CDT spans over 3,000 miles from Canada to Mexico and crosses through Montana, Idaho, Wyoming, Colorado, and New Mexico. We're happy to be following Clay along his journey and will be posting his updates from the trail! You can see all of Clay's blog posts here.
August 6th
Helena, MT>Butte, MT>Salmon, ID (259 miles)
Total miles so far: 616
We ended our stay in Helena with a great tour of town from our gracious hosts, David and Nancy. They showed us around the capitol district, the old rail yard neighborhoods, and then took us out to the Missouri River. We came back through East Helena and got to see the slag pile looming over the town, remnants of the smelter that used to be there.
Returning to the trail at MacDonald Pass, we headed South along more dry ridges, grazing cattle, and big skies. The parallel ridges to our East and West looked more impressive than the one we were on, but we had great views from the high points of the divide. We passed the Anaconda Cut-Off, which skips Butte altogether and shaves off about 100 miles. Many of the hikers we had met took this route which meant we likely wouldn't be seeing most of them again. The Continental Divide does a big 270 degree circle around Butte, crossing I90, Hwy 2, and crossing I15 twice, North and South of town.
As we trailed out of the mountains towards the first interstate crossing, we were met by my friends Pidgeon and Aly. They were set up with a sprinter van and side by side, with a spread of sausages, chips, beers and chocolate milk. We sat, huddled in the shade, and took a long snack break. It was about 28 miles to the next interstate crossing where we would meet them again the next day, so we hiked on, climbing 3000 feet above Butte, on to steep ridges of bubbly extruded granite. The saddles were marshy and thick with mosquitoes, which helped us keep our pace up. We camped at one of the rare springs along the way, and took a long winding course back down to the valley floor.
Pidgeon had set up camp and was waiting for us at the trailhead for a side by side shuttle. At camp, we slumped into his camp chairs exhausted, while he fired up some incredible trail magic: surf and turf, ribeyes and shrimp with a side of mashed potatoes. We ate this extravagant meal, surrounded by cows and cow pies, setting the perfect ambiance for eating a prime steak off a plate in your lap. Afterwards, he set up a projector, perfectly balanced on a stack of dried cow turds and we ate ice cream and cookies while watching a few episodes of King of the Hill.
In the morning, we hopped in the sprinter van and headed into Butte to shower, do laundry, and resupply. After getting our errands out of the way, and taking a quick dip in the hotel pool, we set out to see what old town had to offer. Strolling through downtown was like walking through a movie set, with beautiful brick buildings and architecture reflecting the booming years of the city's past. Once a major economic hub of 100,000 people, years of burning arsenic pits and mining catastrophes led the town and population to dwindle. There must be hundreds of empty apartments and offices in the tall buildings, with views of the cool acidic waters of the Berkeley Pit. We wandered into a basement speakeasy, where dialing the correct number on a rotary phone raised the secret door to enter. Next, an Irish pub that had been the watering hole for generations of union miners. Lastly, we went to the Party Palace, a karaoke joint recommended by a local. Walking in, there was a karaoke singer on stage and I signed up right away to sing 'I'm Gunna Miss Her' by Brad Paisley. Unfortunately I wouldn't get the chance. Right as my turn to sing was coming up, an older gal took the stage and announced an unprecedented and extreme change of entertainment. Some ladies brought out an inflatable pool, filled it with oil, and so began the oil wrestling. We stayed for a bit but dipped out early, amongst a barrage of thrown dollar bills and leering eyes.
Back on the trail the next morning, we headed West out of town, leaving all the excitement of Butte behind us. We crossed a few more ridges and a few more highways, and then began climbing into the Anaconda-Pintler Wilderness. As we sat at American Creek guzzling cold fresh water, we realized that this leg of the trip was actually about 20 miles further than we had anticipated. We had planned to meet friends and family in Salmon, ID that Friday so we now had an extra day of hiking to account for, but not an extra day of food. This initiated a high-mileage rush up and over the Anaconda-Pintler to Chief Joseph Pass, hiking from 6am to 10pm, dreaming of burgers and beer while rationing our food. Our second day in the Wilderness, we climbed 5 passes, obliterating our quads and calves.
The Anaconda-Pintler was absolutely gorgeous, with trails that wove through cragged out peaks, high passes, and some beautiful white bark pine forests at high elevation. Even as we raced through in a blur, it's beauty impressed at every turn. By our final day into Salmon, we sped down 20 miles of ridge line, packs light and empty of food. I was eating the last of my jerky and spoonfuls of peanut butter, and draining the crumbs out of all my empty snack bags. Arriving at Chief Joseph pass, we sat and waited for our ride and chatted with a passing cyclist from Germany.
In Salmon, we headed straight for the Shady Nook, a restaurant and bar recently purchased by the owner of my local Garden Valley establishment, the Dirty Shame. With a crew of close friends from home and dirty hikers, we demolished our meals and mosied through the streets of Salmon, catching the tail end of a jam band, and then, sufficiently fed and lubricated, made our way to our Air BnB on foot.

It is great to be back in Idaho, hiking the high ridges above Salmon that I have seen often on my drives up to the Selway for ITA trips, but never explored. My parents, my friends, and my dog are all here to cheer us on. With 600 miles down and still over 2300 to go, this weekend off in Salmon has been a great respite. On Monday, we will send out our next batch of resupply boxes, set out into the Beaverheads, and make our way East towards Yellowstone. Thanks to everyone who made the trip up to Salmon to join us, everyone who has so generously shared their time, food, and gas with us along the way, and thanks to everyone else who is reading along!
-Clay "Woodward" Jacobson