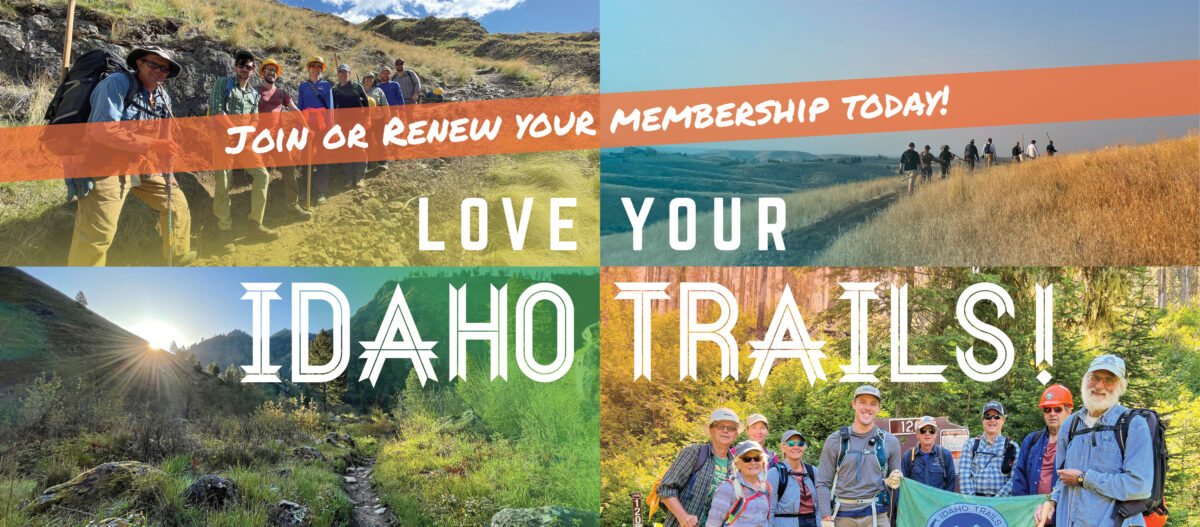 ITA's Annual Membership Drive starts November 15 and runs through the end of the year. We need your help to reach our goal of $50,000 to support ITA's trail stewardship work in 2023. You can join or renew for $25, $50, $100 or more!
Why do trails need our support? Idaho's vast network of 10,000+ miles of trails require routine maintenance to keep them open and safe for trail users. Many trails across the state need A LOT of help to bring them back to life! Your donation to ITA will help purchase supplies and tools for volunteer trail maintenance projects, fund special programs like our WOW (Women Only Weekend/Weeklong) and Youth Trail Crew, support trail education and Leave No Trace efforts, and cover many other expenses related to the stewardship of Idaho's public lands and trails.
What are the benefits of supporting ITA as a member?
1. Our trails need your help! Every dollar you give will keep trails open and support a strong 2023 trail season through maintenance projects all over Idaho.
2. As as member, you get the first chance to reserve your spot on our best trail projects when our schedule comes out in the spring. We have fly-in, jet boat, pack-in, and all-meals-provided trips that range in length from one-day to week-long. Whatever kind of trails you enjoy, we have a project for you!
3. For every $25 you donate during our drive, you will be entered into a drawing to win a spot for you and a friend on our Spring Hells Canyon Trip or one of many other prizes from our generous sponsors.
Show your love for Idaho's trails by becoming an ITA member!
Memberships are good for one year. ITA is a 501(c)(3) non-profit organization. Your donation is tax-deductible to the fullest extent allowed by law.