Our Trail Spotlight highlights trails across Idaho we think are worth hiking! Ranging from one-day to multi-day trips, these recommendations are for trails recently cleared or hiked by ITA volunteers. Trail conditions can change quickly- swollen rivers can become impassable, windstorms can knock trees down across trails, and snow can come earlier than expected. Please take these recommendations as a jumping off place and do additional research (find a good guidebook or check out Alltrails.com) to keep yourself safe if you choose to hike this trail. if your trip is as awesome as hope it will be, please share photos and feedback!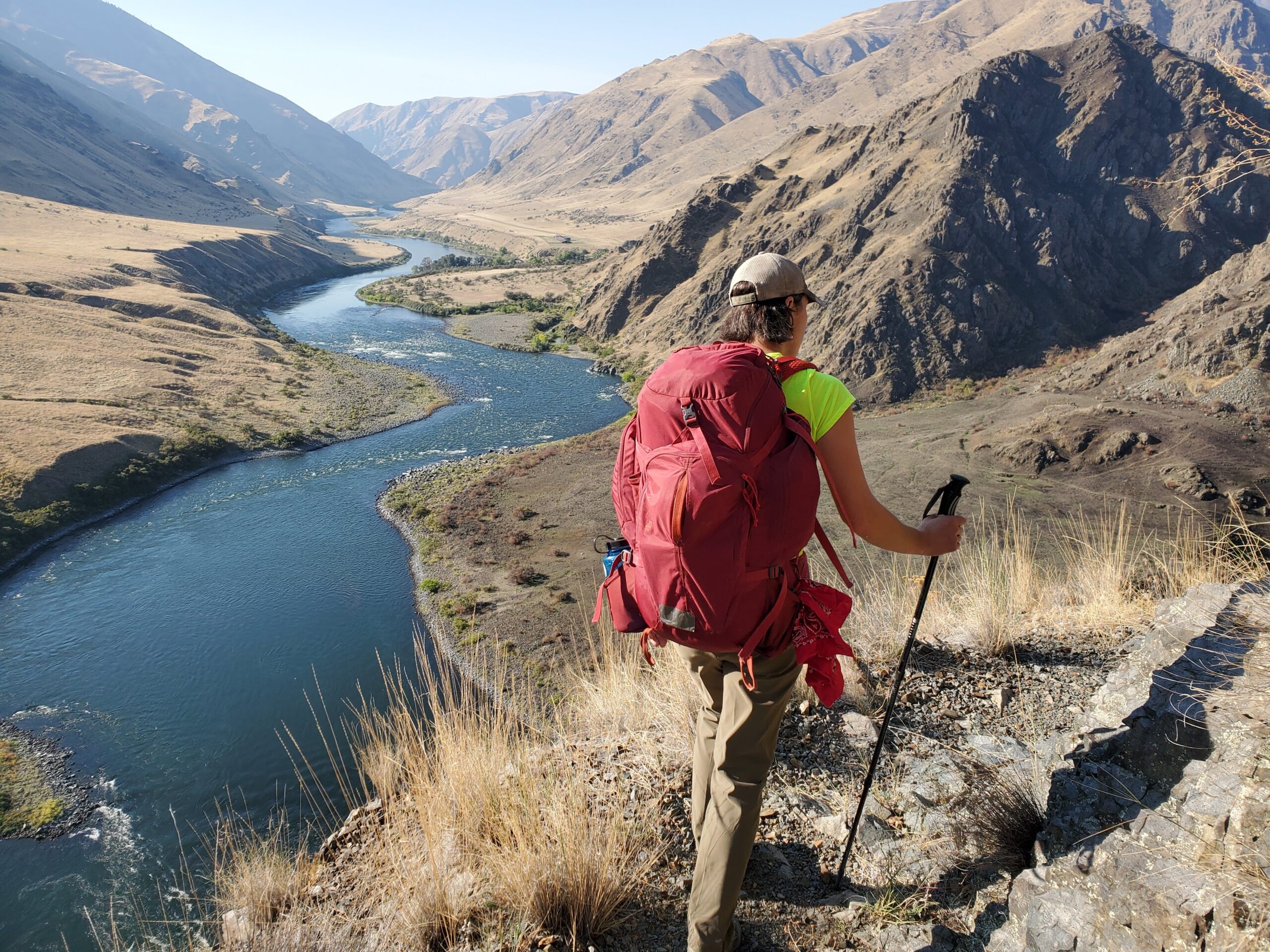 Duration: Multi-day
Area: Hells Canyon National Recreation Area 
Difficulty Rating: 4- This trail loses 6000 feet of elevation between the trailhead at Windy Saddle and the Snake River; there are places where tread is not in good condition and footing can be tenuous.
Road Considerations: The 16-mile road from Highway 95 to the trailhead at Windy Saddle is generally in good condition and passable for two-wheel drive cars after the snow melts off, typically in early to mid-July. Please check on road conditions with the Hells Canyon National Recreation Area office in Riggins.
Total hiking miles: It is approximately 14 miles from Windy Saddle trailhead to the Snake River, then 16 miles from there to Pittsburgh Landing road access.
The Hike
This hike can be done either direction, from Pittsburgh Landing at low elevation on the Snake River up to Windy Saddle trailhead in the Seven Devils, or vice versa, but the elevation change is significant- 6000 feet, so plan accordingly. Starting from Windy Saddle, the hike to the mouth of Sheep Creek on the Snake River can be done in a long day or can be broken into two days. The trail drops quickly from Windy Saddle into East Fork Sheep Creek, with several creek crossings in the first five miles. There is a place camp at the confluence of East and West Fork Sheep Creek, a decent site for several tents but beware of snags from an old burn.
Just beyond the confluence of East and West Fork Sheep Creek, the trail becomes harder to follow for a mile or so; bring a map and pay close attention in this section. The trail will cross Old Timer Creek and parallel Sheep Creek higher on the drainage slope for another few miles, then will cross a ridge and drop into Lightning Creek. The decent into this creek is some of the steepest of the hike. There is another place to camp where the trail crosses North Fork Lightning Creek; if weather is hot, this is a good option as the next four miles to the Snake River can be a hot section of trail to hike in the afternoon.
Where the trail meets the Snake River, there is a cabin and maintained area available for rent (Sheep Creek Historic Ranch – Hells Canyon Adventures). Otherwise, one can camp along the Snake River at the junction of the Sheep Creek trail and the Snake River trail on a flat, open bench above the Snake River.  There is no potable water at the campsite- plan on filtering.
From here, one can hike the 16 miles out to Pittsburgh Landing and road access, or could contact a jet boat charter for a boat ride 18 miles upriver to Hells Canyon Dam or downriver to Pittsburgh Landing. Note: there is NOT an option to HIKE 18 miles upriver to Hells Canyon Dam unless one planned to hike cross country. The Snake River trail ends at Lamont Springs Campsite, several miles short of the dam. There are also loop opportunities to take the Bernard Creek or Little Granite trails back up into the Seven Devils and back to Windy Saddle but these trails have sections that have not been cleared and will require significant elevation gain.
Loop option notes: ITA cleared Bernard Creek to within a mile of McGaffee Cow Camp in April of 2021, and Dry Diggins Ridge trail from above to within a half mile of McGaffee in August 2022, but the section between requires some navigation and route-finding. McGaffee is a nice place to camp, with a spring nearby. Little Granite from the Snake River to Hibbs Cow Camp has not been cleared to date, but ITA cleared from Hibbs to the main Seven Devils Loop trail and back to the Windy Saddle trailhead (south side of the loop) in July 2022.
Places to camp along the way
From Windy Saddle, there is a place to camp on the west side of Sheep Creek approximately 5 miles in, at the confluence of East and West Fork Sheep Creek. There is also a place near at the confluence of Lightning Creek and North Fork Lightning Creek, and at the confluence of Sheep Creek and the Snake River.
Things to consider: Windy Saddle is not accessible until early July, typically, because of snow. The best time to do this hike is fall, when temperatures in Hells Canyon are cooler, or if hiking in the summer months it is best to break it into two days and hike the lower elevation section in the early morning. Coming from the Snake River, much of this hike could be done in the spring, when hills and green and wildflowers are blooming at low elevations, but would be an out-and-back hike with distance dictated by the snow line.
There are rattlesnakes in the lower elevations of this hike- watch for them and give them time to get off the trail. There is poison ivy along the trail in the lower Sheep Creek section, after leaving Lightning Creek. Most of it is knee height or lower- wear long pants and take care when changing clothes and shoes at the end of the day.
Temperature changes are a given on this hike- temps in the summer can be freezing at night and cool during the day at Windy Saddle and the same day it could be over 100 degrees in Hells Canyon. Plan accordingly, with appropriate clothing and sun protection. There are plenty of places to get water along the hike with a good water filter.
Fun places to visit on your way in or out: Traveling to Windy Saddle brings one to within a mile of Riggins, Idaho. There are several restaurants serving great food and cold beverages to the rafting crowd in the summer and fishing crowd in the winter. There are also several coffee shops. In the summer, find big ice cream cones at the ice cream shop on the east side of the highway through town, across from the Whitewater Market grocery store.