Our Trail Spotlight highlights day trips to multi-day hikes across Idaho. Trail conditions can change quickly- swollen rivers can become impassable, windstorms can knock trees down across trails, and snow can come earlier than expected. Please take these recommendations as a jumping off place and do additional research to understand current conditions and  keep yourself safe if you choose to hike this trail. Physical guidebooks and maps are always good to have or check out some online resources like Alltrails.com for updated trail reports. If your trip is as awesome as you hope it will be, please share photos and feedback!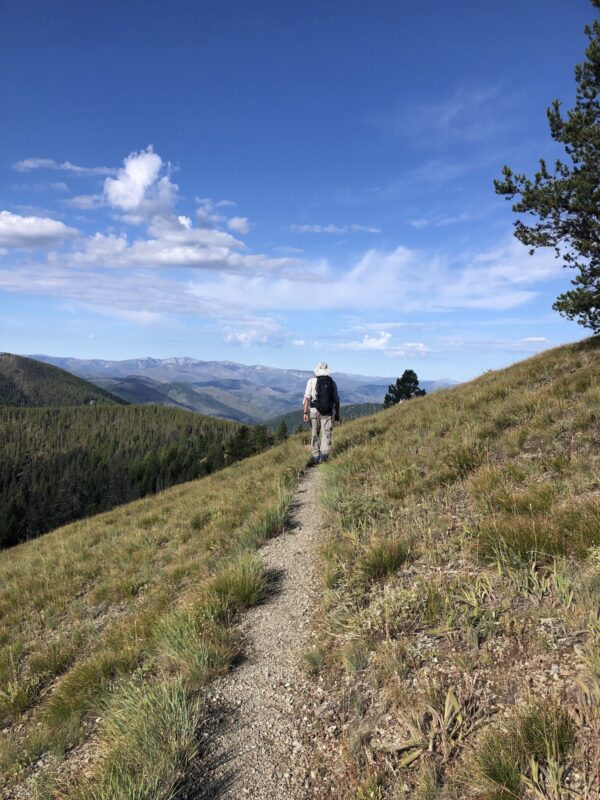 Recommended by: Alex Cravener, Trail Projects Director
Duration: Day hike
Area: Bitterroot National Forest, Selway Bitterroot Wilderness
Difficulty Rating: 2.5 out of 5 – The steep climb out of the trailhead is the worst of it. After the first 0.6 miles, the trail climbs much more gradually. The first three miles were cleared in 2023, and there will be downed trees in the trail past this point.
Road Considerations: Good road, paved most of the way to the trailhead at Nez Perce Pass. There is plenty of parking, a pit toilet, and great views at the Pass.
Total hiking miles: 5.4 miles one way to Nez Perce Peak. Lovely views the whole way if you choose to make it a shorter hike.
The Hike: The trail starts on the north side of the parking area. Cross the road and hike up through the trees.  After about a half mile the trail mellows out and opens up to wonderful views in every direction. This trail follows the Idaho/Montana Border, and after 3 miles forks to continue north or head west towards Nez Perce Peak (7536) There are meadows filled with beargrass and evidence of varied wildflowers when hiked in late summer.
Places to camp along the way: Fales Flat Campground is just a few miles east for easy car camping.
Things to consider: No water sources, some longer stretches with little shade. 
Fun places to visit on your way in or out: Lots of restaurants/breweries along the 93 to stop at after the hike!